Karen Mueller Coombs Author of books for children and young adults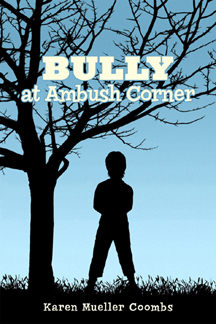 Tink O'Brien drew back a fist and slugged Rocky right in the mouth.…Rocky didn't let the tears spill. Instead, he joked. "Right in the kisser," he spluttered, as Tink scuttled off down the street. "Right in the kisser. And I haven't even used it yet."

Every day after school, Tink is waiting at Ambush Corner to use 11-year-old Rocky for a punching bag. He can't tell his parents. His father will encourage him to stand up for himself and fight back. His mother, worried that Rocky will break a finger and not be able to play his viola in the upcoming music competition, will forbid him to fight at all. What neither parent knows is that Rocky thinks fighting is stupid and has decided to become a pacifist, a secret Rocky is keeping even from his best friend, Mario, who might not approve of Rocky's wish to be peaceable.

Rocky tries all sorts of plans to end the bullying without success, even recruiting his older sister, who steps in, only to make the situation worse. Eventually, however, Rocky's music teacher helps him understand Tink's behavior, which gives Rocky a new idea to try. Will he be able to end the daily bullying, gain his father's approval, win the music competition, and still practice being a pacifist?

A book about a serious subject told with a touch of humor, Bully at Ambush Corner includes a discussion guide, as well as links to Internet sites that deal with bullying.

BULLY AT AMBUSH CORNER is available in print and in all e-reader formats.


To learn more about the book, please visit my book
blog
.
"The book is beautifully written with wonderful descriptions and vivid metaphors. The characters-Rocky's older pugnacious sister, his friend Mario, a Mexican immigrant who has seen more violence than he cares to remember, Tink who is starved for her parents' love and approval-are believable and lovable. . . . I recommend it for all middle grade readers." Laurie Cameron, Kid's E-Book Finder